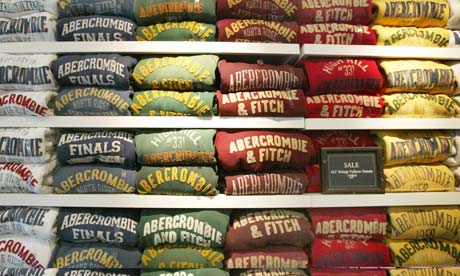 When I was 13, Abercrombie & Fitch (ANF) was my favorite store. Everyone my age thought they had the coolest jeans, t-shirts, and bags, and you almost always ran into a friend from school shopping there too. But as soon as I was old enough to graduate into the "adult" clothes store, the brand lost its luster. And now I cringe every time I pass the tackiness that is the Abercrombie store in New York, with models posing in front for tourists.
A year ago though, I grew to love ANF once again (albeit for a very brief period). Right before earnings last August, I shorted the stock. This was the first earnings report following the CEO's comments that Abercrombie is not meant for overweight people, and I figured their bottom line would take a serious hit thanks to the backlash. Sure enough, earnings were a miss, the stock nosedived, and I made a 25% profit overnight.
Abercrombie reported earnings again this morning. Results weren't expected to be great since over the past four quarters the retailer's sales have fallen by an average of 9% year over year. However, analysts predicted the sales losses to at least slow to 4% this quarter.
This morning, ANF announced earnings per share (EPS) of $0.19 and revenues of $890.6 million, vs. EPS of $0.16 and revenues of $945.7 million in the same quarter a year ago. Same-store sales in the United States fell 9% and direct-to-consumer sales rose 5% for a combined decline of 5%. Revenue was lower than analyst expectations of $909.22 million, but earnings were higher than the expected $0.11.
Shares are down about 4% today after the earnings. Financially, the earnings report creates a mixed case. While the decline in revenues and same store sales represents a shrinking demand base, it's shrinking slower than it was a year ago and the all-important net income is improving.
What is clear is that this company is going nowhere fast unless it makes some serious changes. What's interesting is that ANF seems to have gotten this memo and has been starting to implement changes to better appeal to consumers.
First, Abercrombie is addressing the fact that its prices are too high compared to competitors such as H&M and Zara. Abercrombie is planning to bring its prices down to a more competitive level. To prevent pressure on its gross margins (in theory if you lower price you should also lower cost so your income doesn't take a hit), the company is going to attempt to lower its administrative expenses and find cheaper sources for its clothing.
Abercrombie is making big moves on the fashion side as well. First, it's focusing on bringing fast fashion into its products (similar to H&M or Zara where clothes are made and brought to stores quickly to meet current fashion trends). The company is also testing all of its new products before they're put in stores to make sure they'll appeal to consumers.
Even more impressive, Abercrombie is getting rid of one of the hallmark attributes of its clothing by eliminating its logo heavy clothing. Apparently no one wants ANF stamped across their chest anymore. The company made the announcement in its earnings call this morning.
Lots of big changes are underfoot at ANF. While I don't like the stock as a long-term holding (I'd say no more than 2 years), you could move on the company's strategic improvements. It may be worthwhile to buy now while the stock price is low post-earnings and hold for a few more earnings results to see if the changes make a positive impact on financials and share prices.