The long anticipated day finally arrived yesterday as Apple (AAPL) announced its upcoming new products, the iPhone 6 and Apple Watch.
The iPhone 6 will be bigger and lighter, with a larger 4.7 inch screen and longer battery life. There will also be an iPhone 6 Plus version that features a 5.5 inch screen.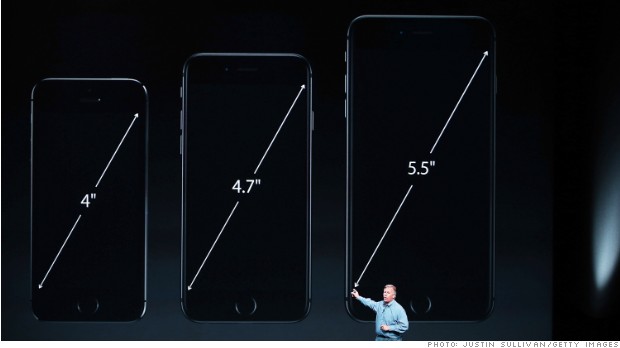 One cool feature of the new phone is Apple Pay, a way for iPhone users to pay for items at participating stores simply by swiping their phones. Apple said that major credit-card companies such as Visa, Mastercard and American Express are all on participating and stores such as McDonald's, Whole Foods, and Staples will accept Apple Pay.
The phones will also feature better cameras and faster processing speeds. The iPhone 6 and iPhone 6 Plus will cost $199 and $299 respectively, and go on sale on September 19th.
I'm honestly not that impressed by the iPhone 6. The phone is essentially Apple's admission that Samsung is already doing everything right, and they might as well copy them. The iPhone 6's 4.7 inch screen is already a feature of the HTC One and Amazon's Fire phone, and the iPhone 6 Plus is around the same size as the Samsung Galaxy Note Edge and Galaxy S5. On top of this, the highly touted swipe payment is already a component of many Android devices.
One Google Plus user already posted a funny comparison of the two platforms:
Even though I'm underwhelmed by the iPhone I still propose you buy Apple. Why? The Apple Watch.
In all of my previous posts on Apple I said I was waiting for Apple to show some true innovation again. I believe they have with the Apple Watch (or iWatch as many like to unofficially call it). The Apple Watch pairs with the new iPhones to display notifications. It features a magnetic charger, a health and fitness tracker, and a crown that controls functions. Oh, and it can tell time.
As a former consultant though, my favorite feature is that it can replace a room key to open doors at Starwood hotels. No more running down to the front desk after you've locked yourself out or de-magnetized your key (can you tell I've done that many, many times?).
I also think the Apple Watch stands out from other wearables because it actually looks cool. Unlike Fitbits, which come in shades of rubber, the Apple Watch comes in two sizes, with silver or gold plating, and has multiple band attachments (stainless steel, sport rubber, and leather). I think it will attract those who have been avoiding getting a fitness tracker due to their less than appealing aesthetics.
The watch will be available in early 2015 and retail for $349. In a smart move by Apple, you do need an iPhone to use the watch.
Analysts are overall mixed on the Apple Watch but I am a fan. I think it will take market share away in the established fitness tracker market and also attract new tech fans. I'm content with Apple's innovation status for now. I already own Apple shares and may pick up a few more in the next week.