Apple (AAPL) reported earnings last night, and the result left a bitter taste in the market's mouth. The stock closed around $131 yesterday, buoyed by high expectations. But after the earnings report, the stock dropped to about $121 after hours, and is trading around $124 today –a 5% drop from yesterday. So what the heck happened to Apple – or as Fortune dubbed it, "Apple's bizarro earnings" – and what should you do about it now?
Given the stock's steep drop, some investors might be wondering if it's time to panic and sell their Apple shares. Not so fast – let's take a look at the numbers.
The company reported third-quarter earnings per share of $1.85 and revenue of $49.6 billion. Those figures beat analyst expectations of earnings of $1.81 a share and $49.43 billion in revenue.
On top of that, Apple shipped 47.5 million iPhones last quarter, in line with analyst estimates. Assuming 90 days in a quarter, that's over 500,000 units per day.
Nothing seems wrong with the numbers so far. So let's answer question #1: why did the stock drop?
It all comes down to expectations. Sure, Apple beat expectations. But it didn't blow them out of the water. And it seems that with investors' increasingly high expectations of Apple, that's what it needs to do to see a post-earnings price increase.
Analysts also didn't love Apple's forward guidance – its projections of how it will do next quarter. Apple projected fourth-quarter revenue of $49 billion to $51 billion, while some analysts were hoping for higher figures.
Rounding out the price drop reasons, investors were also unsure what to make of the Apple Watch performance. Apple did not break out numbers for the Apple Watch, which made analysts wary that the company had something to hide. It's estimated the watch shipped 3 million units last quarter.
Now on to question #2: should you sell?
My personal opinion… absolutely not! I'm still extremely bullish on Apple, and still recommend it as an investment.
Numbers don't lie – Apple is doing extremely well, particularly in the smartphone market. Even more promising, Apple is growing in China as well – long noted as a key market for the company. Greater China revenue this past quarter was $13 billion – double what it was in the same quarter a year ago.
Not to mention, remember that saying, "cash is king?" Apple might as well be king of the world when it comes to cash. As of this quarter, Apple was sitting on $203 billion of cash – up 23 percent from last year. To give you a sense of just how huge that is, here are a few things Apple could buy with all that moolah: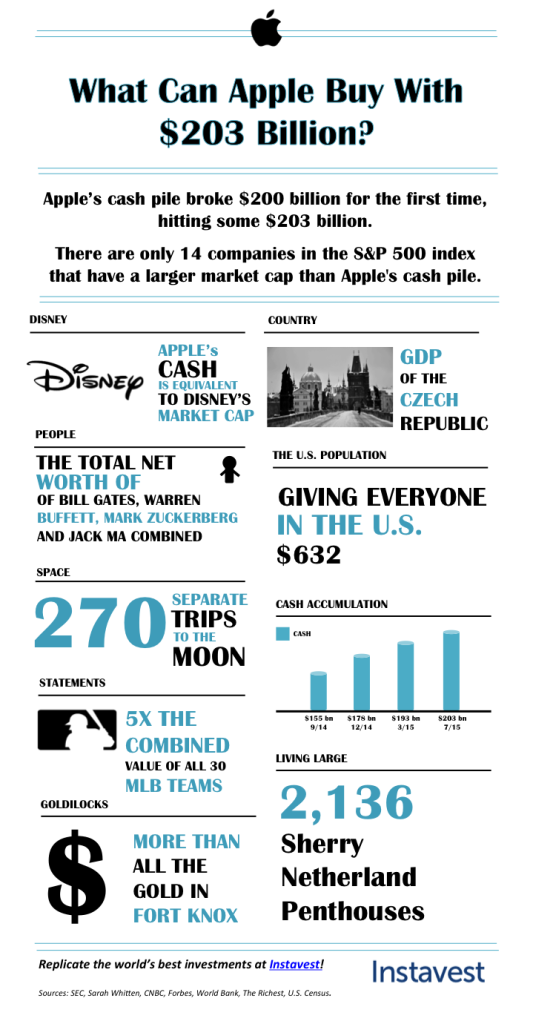 The bottom line: don't count out Apple.