It's Halloweekend! While I love Halloween as a holiday – pumpkin everything + candy! – the costume expectations give me anxiety. I don't want to spend a ton of money on a store-bought costume, but I'm way too much of a procrastinator for a great DIY costume.
So, for those of you out there in my boat, I've got a few Halloween costumes you can throw together last minute for almost no money.
Rosie the Riveter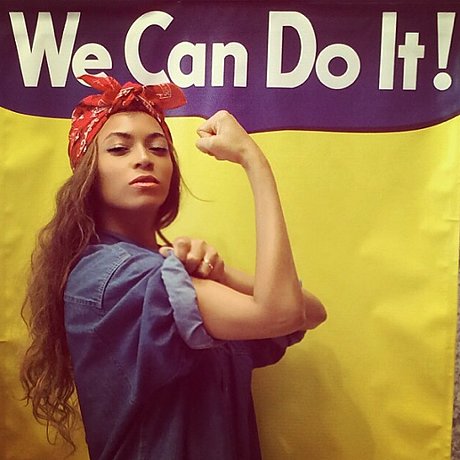 Thank goodness denim shirts are super in this season, because it makes this costume a snap. And if it's good enough for Beyonce…
What you need:
Denim shirt
Red bandanna
Red lipstick
Lorde
This one is for all my fellow girls with crazy, curly hair. Tonight's the night you get to own it.
What you need:
All black outfit (goth-esque)
Dark nail polish
Dark eyeliner
Hair mousse
Inspector Gadget
What you need:
Trench coat
Fedora
Tie
Any gadget-y toys you can find around the house (like slinkies). Bonus points if you have a robot claw you can use as a hand
Gym Rat
My personal favorite costumes are ones which involve sneakers. Last year I went as a "gym rat" and have never been so comfortable at a party before.
What you need:
Carl from Up
This is a photo of my little brother from last year's Halloween (hi, Zach!). I think he totally nailed it and was adorable, but I might be a little biased.
What you need:
Your dad's old clothes
Big glasses
Balloons
Hope you all have a fun (and safe) Halloween!